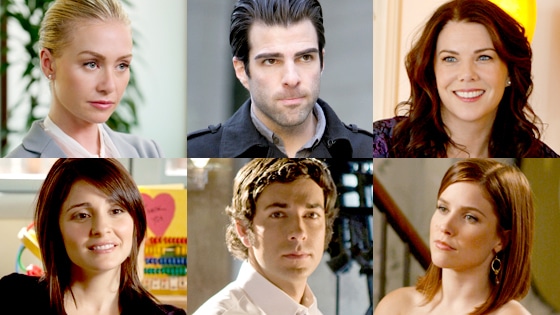 ABC/Craig Sjodin; Adam Taylor/NBC; Christ Haston/NBC; Jack Rowand / The CW; NBC/Paul Drinkwater; Fred Norris/The CW
Update, Thursday, 10:30 a.m.: Well, this is awkward. Apparently Better Off Ted creator Victor Fresco didn't know his show was in danger of possible cancellation. He's kidding, of course, God love him. But check out the statement we just got from him below, which just proves why his ABC comedy made the cut...
________
It's aliiiiiive!
That's what we can say about NBC's Heroes, which just clinched the coveted Wild Card in E! Online's Save One Show campaign, receiving more votes via Twitter than any other series. Nobody puts Sylar in the corner.
After two rounds of voting, we're down to the final six contenders—Better Off Ted, Chuck, Heroes, Life Unexpected, One Tree Hill and Parenthood—and here it is, your last chance to vote, along with special messages from the show's big bosses to you fans:
Save One Show, Final Round
The Save One Show 2010 winner will be announced on Monday, April 12, and receive some show-saving promotion right here on E! Online as well as E! News and Daily 10, courtesy of you TV experts who know best: the fans. We'll also take your show-saving message directly to the network bosses of the winning show.
After One Tree Hill badass boss Mark Schwahn took it upon himself to shoot a Save One Show viral video message thanking fans, we reached out to the producers of all the SOS finalists to give them the chance to weigh in (fair is fair!), and here's what they'd like to share with you fans:
BETTER OFF TED

"Is Better Off Ted in danger of not being renewed? I thought everyone liked it. And by the way, this is a terrible way to find out.
Seriously, we love our fans and appreciate the power of their enthusiasm. And we still have stories to tell. Stories that will make America a better place! OK, I'm exaggerating, but the show's funny and funny things should be allowed to go on living That's how evolution works. Rabbits, turtles, chickens, they're all funny, and so evolution keeps them around to amuse us. I feel strongly we should be treated the same way, otherwise evolution isn't being fair."
—Victor Fresco, Creator and Executive Producer
CHUCK
"It means everything to us that our fans have time and again come to our rescue. They are a combo of Sarah Walker and John Casey, always there to swoop in and save Chuck. Hopefully, Josh and I scream a little less than Chuck and are cooler in the face of danger (see: cancellation) but we appreciate them just the same. So, for the record, thank you. Thank you for campaigning for the show. We would rather not get into trouble in the first place. But where's the fun in that? Again, thanks!"
—Josh Schwartz and Chris Fedak, Executive Producers
HEROES
"For four seasons our fans have made Heroes an international success. This is not only from the on-air audience, but as one of the topmost DVR'd shows, top-selling DVDs, and the number one most downloaded show the world. We owe it to these loyal fans, who have found the show on all of these platforms, to finish what we started. It is because of you that we have gotten this far. So let your voice be counted, and thank you for your support!"
—Tim Kring, Executive Producer
LIFE UNEXPECTED
"I am so excited to be in the Top 5! Woohoo! The entire cast, writers and crew appreciate the fans and voters so much! This is awesome. We've had the best time making the show for you and hope we'll get to do it for another season. So vote and help us keep going. Here's to Season 2 of more corn dogs, turtle racing, Starship and of course, family."
— Liz Tigelaar, Executive Producer
ONE TREE HILL
"It feels great to be back in our annual home in the E! Online Save One Show campaign. The good news is that after 152 episodes, our fans are still as passionate and invested as ever, as are the cast and crew. We appreciate our fans immensely, and we appreciate E! and Kristin for giving them the opportunity to voice their support for the show. Hope to see you all in Season Eight."
—Mark Schwann, Executive Producer
PARENTHOOD
"Devoted fans helped save other shows I've been involved with, so I'm well aware of the power they yield and am encouraged by them rallying around Parenthood. All of us at Parenthood are so appreciative and value our fans' efforts and their passion for the show."
—Jason Katims, Executive Producer
In the meantime, well, not to be all confrontational (what? I always wave my finger and rubberneck while typing), but as for the recent assertion that our Save One Show campaign is "ridiculous" and like voting on whether to end world hunger (which, granted, is pretty dang funny), I think you can tell from some of the statements above that the executive producers who run these shows don't feel that way.
"This is not nothing," Chuck boss Josh Schwartz told me of Save One Show during an interview last week. "It's worth a lot. If we win, it's precisely the kind of thing we will bring to NBC when we make our pitch for next season. It's a great anecdotal snapshot of our fans. So it definitely means something to us and to the show."
While the Nielsen ratings certainly are the biggest deciding factor in a show's fate, a significant push of fan love at just the right time (now!) can inspire network suits to take a closer look at an on-the-bubble series and consider giving it a second chance. After all, active, passionate, social-networking fans who help generate buzz for the things they love are not exactly undesirable to advertisers.
To that end, we're also going to have an honorable mention this year for the Save One Show series that receives the most tweets with #SOS plus the show name: #SOSBETTEROFF TED, #SOSCHUCK, #SOSHEROES, #SOSLIFEUNEXPECTED, #SOSONETREEHILL, #SOSPARENTHOOD.
Get voting...and tweeting! The race ends Sunday night.
And make sure you're following @kristinalert for all Save One Show updates.
And check out Shiri Appleby, who just stopped by our Daily 10 studio...