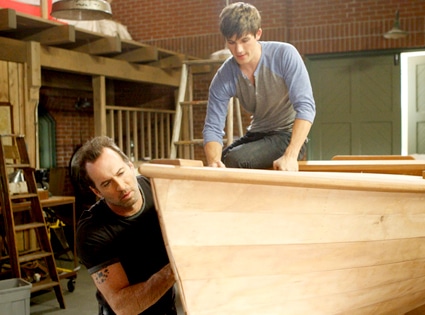 Michael Desmond/The CW
Luke Danes, is that you?! Gilmore Girls' resident coffee shop stud appears to have wandered out of Stars Hollow and straight into a new ZIP code—90210 to be exact.
Scott Patterson makes his Beverly Hills debut this Tuesday as Finn, Liam's (Matt Lanter) recently released from jail pops, and by the looks of your exclusive peek at the reunited twosome, things are right as rain...right?
Sorry folks, wish we could help spread the love, but Finn's motives aren't exactly what they seem...
As far as daddy issues go, Liam takes the cake. First he's stuck with the stepfather from hell (aka Smallville's John Schneider) whose cheating ways still haven't managed to get him ousted from the family. Now his real dad is back in the picture—and that inevitable heartbreak is headed Liam's way once again.
Things are all hunky-dory when Finn resurfaces (See? Liam even lets him in on that boat action—he's gotta be special!), but as soon as Liam lets his guard down and decides to help daddio get back on his feet, things take a turn for the worse.
So much worse, the now blissfully coupled Liam and Naomi will take a dire turn for disastertown. In fact, a very reliable 90210 source tells us the action Liam takes once he learns Finn's endgame will hugely impact that "crazy, mind-blowing" season finale we've been hearing so much about—you know that one that involves a little lady named Naomi!
"We see Liam doing something that could ultimately find him in major trouble," says our source. Fingers crossed he doesn't go as far as one Chuck Bass à la Gossip Girl.
Thoughts on Scott's latest CW gig? Guesses as to what this shocking finale might mean for the 90210 crew? Sprinkle your comments in the section below, and then tune into Scott's debut on 90210 Tuesday at 8 p.m.
________
Have a burning question about your favorite TV series? Email tvdiva@eonline.com for answers!