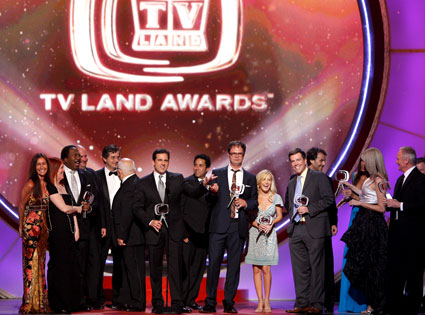 AP Photo/Kevork Djansezian
From the Beav to Gary Coleman to Justin Timberlake to The Golden Girls, the 6th annual TV Land Awards had all demographics covered.
The ceremony, taped Sunday night at the Barker Hangar in Santa Monica, honored the best and brightest in the world of entertainment, including movies and music, and made for some good TV.
Lionel Richie, who was on hand to receive an Icon Award from Samuel L. Jackson for 40 years in showbiz, performed some of his greatest hits and gave some tongue-in-cheek props to his one-time wild child daughter. "Just surviving 27 years of Nicole Richie...I stand here as a survivor," he joked (we think).
The showstopper featured host Vanessa Williams warbling the Peter Pan tune "I'm Flying" while classic TV stars Barry Williams, Bernie Kopell, Gary Coleman, Jerry Mathers, Jimmie "J.J." Walker, Dawn Wells, Alison Arngrim, Ron Palillo and William Katt flew above the crowd dressed as their iconic tube selves.
Other highlights of the evening include:
Timberlake presented his Love Guru costar Mike Myers with the Legacy of Laughter Award after throwing a shout-out to an overeager male audience member who declared his love. "That's OK, nothing wrong with a bit of bromance," Timberlake said.
Steve Carell gave The Golden Girls stars Bea Arthur, Rue McClanahan and Betty White the Pop Culture Award.
Ed Asner and William Shatner in turn presented Carell and the rest of the Office crew with the Future Classic Award.
Teri Hatcher saluted the cast of Roseanne, including Roseanne Barr, John Goodman, Sara Gilbert, Michael Fishman, Martin Mull, Johnny Galecki and both Beckys—Alicia Goranson and Sarah Chalke—with the Innovator Award.
After whisking Vanessa Williams off into a waltz, Robin Williams honored his hero and Mork costar, Jonathan Winters, with the Pioneer Award.
Penny Marshall, Cindy Williams, Henry Winkler, Jack Klugman and Dick Van Dyke bestowed the Legend Award to Happy Days creator Garry Marshall.
The awards will air on the TV Land network June 15 at 9 p.m.