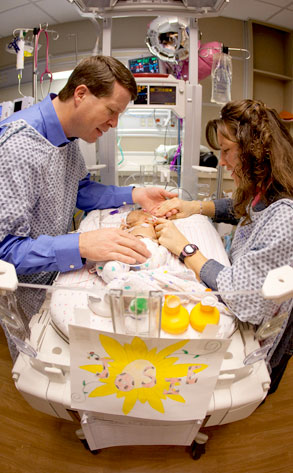 TLC
The Duggars can stop counting. No. 19 is finally home.
After four months in neonatal intensive care, Josie Brooklyn Duggar was united with her 18 brothers and sisters (some for the first time) and allowed to leave Arkansas Children's Hospital.
"We're grateful for the prayers of thousands," reality-show patriarch Jim Bob Duggar told People.
"We are so happy," mom Michelle added. "We are so excited, we are running on adrenaline. I have been getting into the routine of every three hours feeding, diapering and taking her temperature. We are so encouraged that she is doing so well."
Underweight and undergestated, Josie was born via emergency C-section Dec. 10 at just 25 weeks. The micropremie weighed a startling 1 pound, 6 ounces. Cut to today, when she tips the scales at 4 pounds, 9 ounces, can breathe without oxygen and is in stable health.
As is to be expected, TLC has prepared a special on the momentous occasion, and will air 19 Kids and Counting: Josie Comes Home May 9.