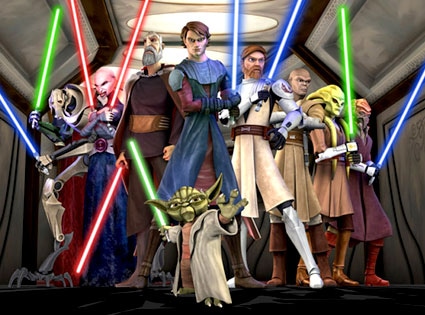 Cartoon Network
Yes, George Lucas is really going there.
In the latest attempt to wring every possible cent out of Star Wars, the head Jedi has announced plans to spin off an untitled animated comedy series that "will look at the saga's characters with a playful and irreverent tone," per Lucasfilm.
Helping to oversee the hijinks will be former Scoobster Seth Green, who's earned Emmy nods for spoofing the Skywalker gang in his Robot Chicken.
"It's crazy to think that there aren't normal, mundane everyday problems in a world so well-defined," says Green, hinting at the show's premise. "What do these characters do when they're not overthrowing Empires?"
No word on which network will air the new comedy, but Lucasfilm shot down speculation that there would be crossover between the Star Wars sitcom and the hit Cartoon Network series Clone Wars.
Color us skeptical, but hey, it can't suck any worse than that holiday special. Right...right?!
________
Princess Leia is a hottie. Ditto Queen Amidala. But did either make the cut in our Sci-Fi Babes gallery?