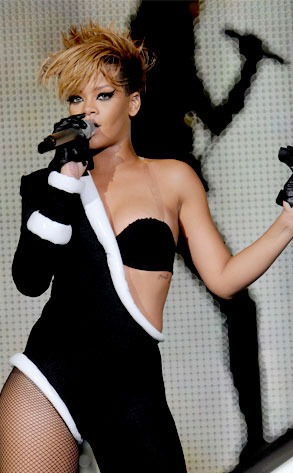 Kevin Mazur/Getty Images
UPDATE: Fans are gonna have to wait a couple more days—two, to be precise—to witness this summer spectacle, as Rihanna's reps have been forced to push back the opening night.
"Due to production changes, the kickoff of the Rihanna tour will now be on July 4 in Vancouver," her reps said. "Fans who purchased tickets will receive a refund. Rihanna apologizes to her Seattle fans and hopes to make it up to them on the next tour."
________
Time for Rihanna to grab a toothbrush and a bottle of Jack—she's going on tour for the first time since 2008, and she's bringing Ke$ha along for the ride (which already sounds like much better company than she had the last time around, when Chris Brown was her regular surprise guest on the road).
Dubbed the Last Girl on Earth tour, Rihanna will be hitting 25 dates in North America, kicking off in Seattle July 2 and winding up in Chicago August 25.
And this time around, the Barbadian is expanding her skill set, adding drumming to her stage to-do list, thanks to some one-on-one lessons from Travis Barker.
"Teaching Rihanna some things on drums," he tweeted last month, offering up some photographic evidence of his tutorial. "She JAMS!!!!! Watch out for her!!"
Young Money rapper Nicki Minaj opens for the duo on the summer trek. Tickets go on sale this Friday.
Rude boys and girls rejoice.
________
What kind of costumes can we expect from Rihanna on the road? Fierce ones, if our Fashion Spotlight gallery is any indication.