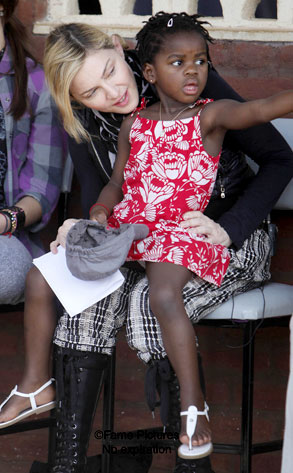 Fame Pictures
Madonna may have adopted Mercy and David Banda from Malawi, but they're not the only children in the African country whose lives have been affected by the Material Mom.
Now, she's brought her family back for a very special event.
"It is with tremendous joy that I return to Malawi to lay the first brick in the Raising Malawi Academy for Girls," she writes in a blog post for Raising Malawi of which E! News was given an exclusive preview. "By educating girls, we will rebuild this community and raise this nation."
The school, which broke ground less than six months ago, hopes to provide an education—including music, art and dance, natch—to 450 girls and serve as a launching pad for future similar schools of its kind.
"We will stop the brain drain happening in so many African nations," she says. "Having seen the determination in the eyes of these children, I know they have the strength to save Malawi—they just need to be given the tools."
She concludes, "It is with hope for a bright future that I am here. Tomorrow, the brick I will lay is not just the bedrock to a school—it is the foundation for our shared future."