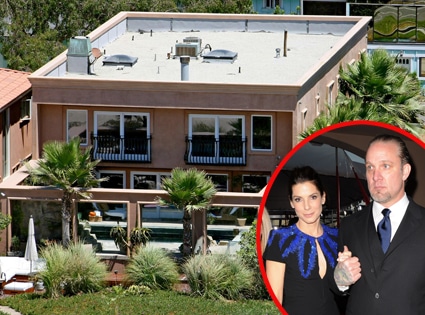 Mike Carrillo/ CelebrityHomePhotos.com; Martinez/JPegFoto/PictureGroup via AP IMAGES
Jesse James is in Arizona rehabbing. Sandra Bullock is in Hollywood recovering. That left the coast clear at the estranged couple's former headquarters for some removing.
A moving truck emblazoned with the logo L.A. Delivery Services was photographed Friday at the Seal Beach, Calif., home that James and Bullock had shared until mid-March, when news of his alleged adultery broke, sending the Oscar-winning actress to the (Hollywood) Hills.
Among the items removed, according to photo agency X17, were a couch, a loveseat and several boxes. No immediate word on the truck's destination.
Except for a quick visit to a friend earlier this week, Bullock, 45, has remained in hiding at her home in the Hollywood Hills. But she has hardly been alone. Staffers at her production company have been paying visits all week long, including being on hand to accept a pizza delivery.
James, 40, meanwhile, has checked into a treatment center to save his marriage. His lawyer, Joe Yanny, told the Associated Press earlier this week that "this whole thing has destroyed Jesse's entire universe [and] right now he is a broken man." Yanny added that James "is in love with Sandra" and "the single most important thing to Mr. James and the children is that marriage somehow survive."
James' mother, Carol, has been taking care of his children at the Seal Beach home in his absence. TMZ photographed Carol and James' daughter Sunny carrying boxes out of the home earlier Saturday.
In a brief statement shortly after word of his alleged infidelities broke, James didn't cop to any philandering but did say, "It's because of my poor judgment that I deserve every bad thing that is coming my way."
Bullock has yet to comment on the mess—and her silence is deafening.
_______
Just a month ago, things were so much better. Take a look back at Sandra and James' good times in our gallery!