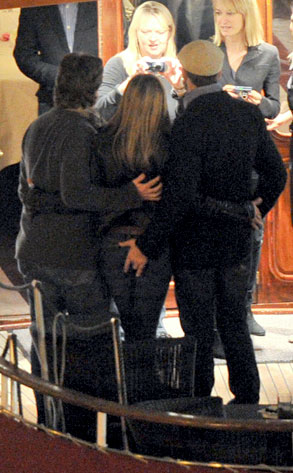 Ramey
Gerard Butler's connection with Jennifer Aniston is more than skin-deep.
But the roguish Scot played coy in response to questions about the random fishing expedition he took while posing with his Bounty Hunter costar for fans in Paris on March 27.
"I'm a bit of a bad boy," Butler explained Friday on the syndicated Johnjay & Rich radio show.
"By the way, I'm still not sure my hand was really on her butt," he said rather, er, cheekily. "I think that's just the way the camera was angled."
Or maybe Butler was just trying to be funny—such a card, that Gerard—and totally forgot that shutterbugs would be shooting them from, uh, behind.
And, for the record, Butler again denied that he and Aniston are an item, saying, "If I was going out with Jennifer, I'd be more than happy to say I'm going out with Jennifer—it's just not true."
(Originally published April 2, 2010, at 1:55 p.m. PT)