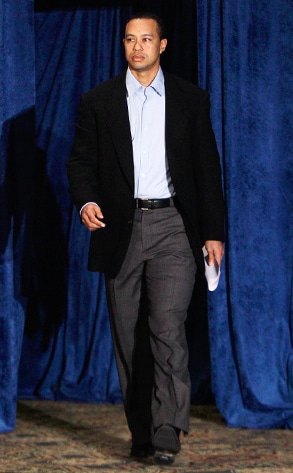 Eric Gay-Pool/Getty Images
Romance ain't dead, people.
Just read the interviews with Tiger Woods' supposed mistresses in the new Vanity Fair.
The magazine has a fancy photo shoot with some of the ladies, and, for the most part, they reiterate some of what we already knew about them. Still, there are some totally priceless gems.
Guys, gather round…
Read between the lines of your breakfast menu, but don't bother tipping well. Tiger and wife Elin Nordegren frequented a Perkins Restaurant and Bakery, where Mindy Lawton was regularly their waitress. She suspected the golfer was makin' eyes at her—she says she was proven correct when he called looking for her—so she didn't care when her colleagues complained about the 15 percent tip he'd put on his black American Express card. How's that for flippin' pancakes?
Don't be phased by that time of the month. One time, when Tiger and Mindy allegedly rendezvoused in a church parking lot, she told him her friend Scarlet was in town. "He told me to pull my underwear down and pull out my tampon, and we went at it with me pressed against his Escalade," she describes. That used feminine hygiene product was later found in the lot by a National Enquirer reporter, she claims. Ew.
She'll think you love her when you buy her Subway. Clearly, Ms. Lawton was rather low maintenance. She claims the champ never bought her anything but a chicken wrap. It was their only meal together—they scarfed it down before getting it on—and washed it down with Baileys Irish Cream liqueur, she says. Really, who needs candlelight and champagne?
She still has needs, even if your dad is dying. Earl Woods had quadruple bypass surgery and a cancer diagnosis, but Tiger wasn't at his father's bedside on May 3, 2006. He was allegedly 30 minutes away with Jamie Jungers. He did take a short trip to see Earl—just two or three hours—and was clearly upset, but that didn't stop them from getting down to business, Jungers claims. A few hours later, Tiger's mom woke them to say that Earl had passed away. So much for the dutiful son.
Have your friends clean up your messes. After the whole tampon incident, Mindy was convinced she was being investigated by the media, and Tiger reportedly had her work directly with his agent, Mark Steinberg, to deal with it. When the golfer left to check on his dying father, he had Jungers watch a movie and eat junk food with his bestie, Bryon Bell, per Vanity Fair. That's what friends are for, right?
Bromance ain't dead either—hanging with Charles Barkley and Michael Jordan is good for the wallet. As Tiger's stock rose, so did his gambling money, especially when he was with the two star basketball players. "Tiger plays big," one high roller spilled. "Up to 30 grand a hand...Tiger Woods and Michael Jordan are not only two of the world's greatest athletes; they're two of the world's biggest gamblers." Woods' former attorney, John Merchant, predicted that hanging with the baller could lead to his undoing. "I told him, 'Stay away from that son of a bitch, because he doesn't have anything to offer the f--king world in which he lives except playing basketball, which he did yesterday."
Really, who needs a rose ceremony when you have this guy?!