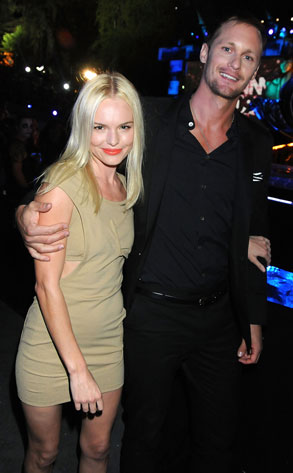 Jeff Kravitz/Getty Images
If Alexander Skarsgård and Kate Bosworth aren't dating, then they must be, like, totally best friends.
While the True Blood hunk, 33, and the 27-year-old actress have shown public displays of affection, they've never actually confirmed that they are a twosome.
They were recently spotted lunching at Doughboys in L.A. Our spy tells us that Skarsgård, lookin' all hot and stuff in a Levi's X Opening Ceremony T-shirt, "kissed Kate's hand" as she grinned ear to ear.
"They were laughing all throughout lunch and looked cozy on a date," the source adds.
Do think it's time for Skarsgård and Bosworth to come out of the coffin closet as a couple? Leave your comments after the jump, where you'll also find scoop on Kim Kardashian, a surprise birthday party for a Twilight star and so much more...