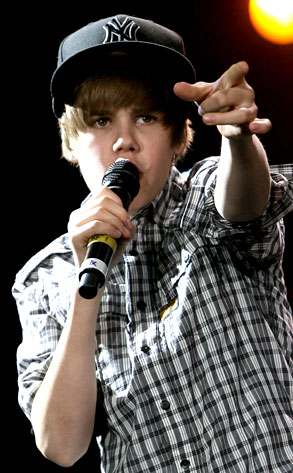 Kevin Kane/Getty Images
Yes, he's not exactly what you'd call game (right, Kids' Choice Awards?). Yes, he really should trade in his swagger coach for a tutor if he's lived 16 years and remains unfamiliar with the phrase "keep it under wraps." And yes, his britches are fitting a little tight these days.
But no, his fans couldn't care less.
Justin Bieber's My World 2.0 topped the album charts this week, making Usher's protégé the youngest male solo artist to score a No. 1 on the Billboard Top 200. And the benchmarks don't stop there: The slime-averse songster is also the youngest male solo artist to score two simultaneous albums in the top five (his O.G. My World rounds out this week's list).
And what with his forthcoming national tour and an April 10 appearance on Saturday Night Live, Bieber is inching closer to pop culture domination, divo minifits and all.
All of which means it's officially Justin's world (2.0). We're just living in it.