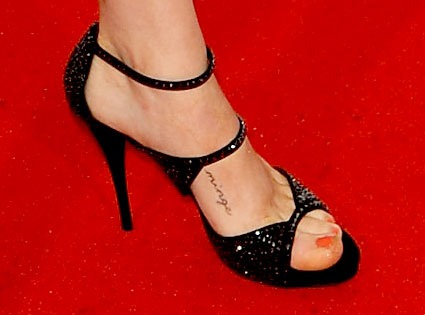 Ian Gavan/Getty Images
Never heard of minge? Neither had we until we saw this actress showing off a foot tattoo of the word.
Apparently, it's slang for a woman's ladyparts, and this starlet got it after she shot a musical movie with Colin Firth.
"It's to make me laugh, and every time I look at it, I do," she reportedly said of her ink.
So who's the actress with the dirty tat? Find out after the jump...
It's Amanda Seyfried, and she was working on Mamma Mia with Firth when she says she first heard the word.
She showed off the ink at the Dear John premiere in London, where she hit the carpet with costar Channing Tatum.
Are you surprised that she's got a dirty sense of humor?
______
Amanda's not the only one abroad for her movie premiere. Check out Jen and Gerard promoting their flick in Party Pics: Global!