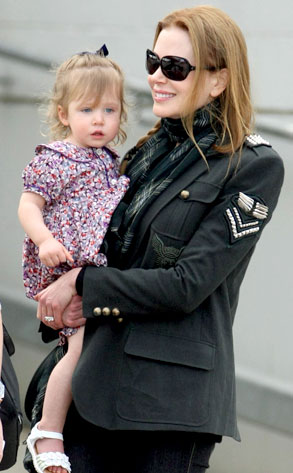 Flynet Pictures
Dear Ted:
Can you clarify what you mean by Isabella and Connor Cruise loving the Tomkat life? Do they "hate" Nicole and Keith/love the attention they get being with Cruise and Holmes or are they so firmly entrenched in the ways of Scientology that they are not encouraged to be with their mother?
—AHJC
Dear Great Question:
Let's just put it this way: Isabella and Connor finally noticed the majority of times they had outings with their mom, leagues of paparazzi just happened to be hanging out of every tree branch within sight. How did that happen? No idea myself, but they say kids are more intuitive than adults, right?
Dear Ted:
Just a concern. In your post about whether Sandra Bullock knew all along about Jesse James' reprehensible behavior, you state that JJ should receive worse punishment than an ongoing beating, as suggested by SB in response to the alleged Elin/Tiger incident. I'm alarmed, because this could bring a terrible retaliation on a man who has children in his care. Not everyone knows you aren't being literal. You aren't, right? You do have power, and though many are deeply angry and saddened by JJ's behavior, we shouldn't incite or do violence against anyone or anything.
—Monica
Dear Pro-Peace:
Thanks for the compliment, M, but, in reality, I don't have that much power (nor do I desire it, contrary to popular belief) and it's a good thing, too. Were it up to me, yes, men—or women, for that matter—who betray their partners so brutally deserve some pretty brutal karma back. And it doesn't have to be the physical kind.
Dear Ted:
What is wrong with Taylor Swift? Didn't her mother teach her that hanging out with dirty boys like John Mayer will ruin her reputation? Is Ms. Taylor looking to be country's new bad girl to stay relevant?
—Pixie