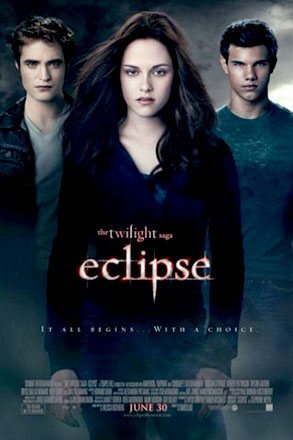 Summit Entertainment
Dear Ted:
What do you think about the Twilight fandom? I admit being a part of it, but I think they have totally gone too far...especially lately. Some fans are taking things way too personally and think that they actually have the right to demand things. I find it rude and disrespectful. Yes, Summit asked for fan feedback because they obviously have no idea what to do and just want to please the psychotics, and I honestly think that is the reason why the movies suck as much as they do.
—Em
Dear Twi-Hard:
I can't hate on the vamp lovers for being enthusiastic, but like all fandoms, you're going to have a few loose screws thrown in with the lot. And Summit has more problems than just listening to the fans too much—like, say, getting a good script, for starters.
Dear Ted:
I agree with your blog post that Sandra Bullock probably didn't know about Jesse James earlier in awards season, but if you check out this link it looks like she did know by the time of the Oscars.
—Melinda
Dear Acting Class:
I stand by saying that I doubt Sandy would (deliberately and knowingly) put on a red carpet act, but even if she did know about Jesse's growing number of on-the-side skanks, can you blame the baby for wanting to keep it under the radar and fix her marriage behind closed doors? Sounds like a classy way to handle a totally sucky situation.
Dear Ted:
You've said that Selena Gomez is a sweetheart, which I wholeheartedly believe, so given their falling out, does that mean Demi is not so nice herself? I just don't see why they'd lose their BFF status unless one of them—probably Demi, given her snide comments about Selena—isn't that nice of a person or is a phony. Hoping you can illuminate as much as the E! lawyers will let you!
—Kelly