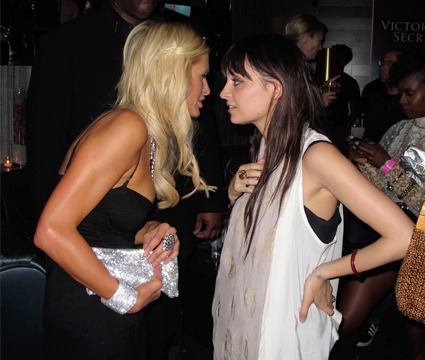 Celebrityvibe.com
It was just like old times last night as former BFFs Paris Hilton and Nicole Richie partied at the Victoria's Secret swimwear bash.
Paris hit the soiree at Trousdale sans Doug Reinhardt and was sharing a table with her manager, while Nicole was seated across the room with her fiancée, Joel, and his twin bro, Benji Madden.
Paris joined Nic's table, where the girls sat together and caught up before Paris said hi to her former boyfriend Benji.
Although the onetime couple talked for a few minutes, the heiress seemed more interested in her conversation with Nicole, quashing any hint of reunion rumors.
And Benji wasn't the only ex of Paris' at the party...
Her former Greek boy-toy Stavros Niarchos was also there, chatting closely with Miranda Kerr.
No word on where Orlando Bloom was last night, but Miranda seemed to be having fun regardless, first with Stavros and later dancing with her girlfriends at Leonardo DiCaprio's table, which included pal Kevin Connolly.
And, of course, along with model-loving Leo, Jeremy Piven was also at the VS party, chatting up a tall blonde for most of the night.