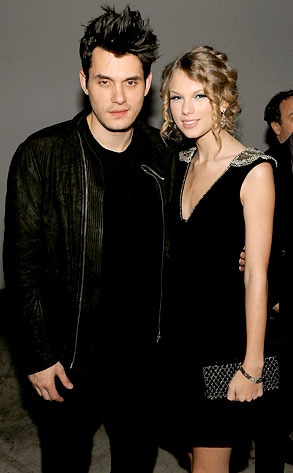 Dimitrios Kambouris/Getty Images
We keep seeing pics of Taylor Swift with Taylor Lautner and Cory Monteith but why isn't anybody picking up on all the sightings of John Mayer and Taylor Swift? I hear they're together, so why are the tabloids refusing to report it?
—DestrucTIt, via the Answer B!tch inbox
It's not that we're refusing to report it, dear. It's that the evidence is annoyingly slippery. I, too, have fielded tweets from insistent B!tchlettes, saying they saw John Mayer and Taylor Swift down south getting out of a bus "together" or heading to the same hotel. But...ah, well. I'll let you decide. Here's what we've got.
Are these two together, or have they been? You tell me:
Allegation No. 1: Swift and Mayer were together together at the Ritz Hotel in Dallas around March 9.
The Facts: That tidbit came to me from a B!tchlette spy in Dallas, who tweeted that they got out of a bus "together" as well. Both Swift and Mayer had concerts in Texas during that time frame—Mayer in Dallas on the March 9, Swift in Austin on the March 10.
She'd given a Florida concert on the March 7, but had no other gigs in between, and her whereabouts during that three-day window are iffy. There are no news reports definitively declaring where Swift was on March 9. Could she have been in Dallas? Why not? It's a three-hour drive away from Austin, or a very short plane ride.
Allegation No. 2: Swift and Mayer saw each other in January and dated in February, so maybe they're still dating in March.
The Facts: Yes, we've said the two have eaten together, though not necessarily romantically. The two also have performed together live and have recorded a duet. Plus, gossip sites like Hollywood Life have reported that the singers hooked up in February, though said sites also say the dalliance is over.
Allegation No. 3: Swift and Mayer were both in Los Angeles this week, again, together together.
The Facts: That's another piece of gossip jetsam I got from a fan. Of course Swift is in Los Angeles; she's been lunching with ex Taylor Lautner and bowling with Glee actor Cory Monteith. As for Mayer, he had a concert at Staples Center Thursday and a gig in San Jose Friday night. Swift, meanwhile, was expected to play in Detroit both Friday and Saturday. So yes, they were both in the same state—again, for a second—if that matters.
Too bad Mayer isn't tweeting about this stuff anymore or dishing in Playboy interviews. Sure would make my life a whole lot easier.