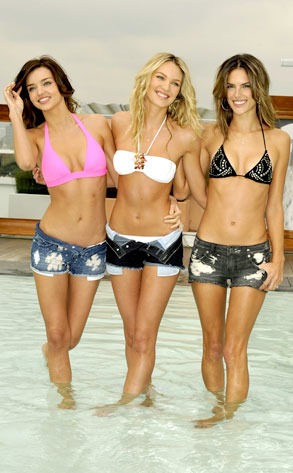 Toby Canham/Getty Images
With bikini season right around the corner, Victoria's Secret supermodels hit the SLS Hotel in Hollywood this morning to celebrate the 15th anniversary of the swim catalog.
And I got Miranda Kerr and Alessandria Ambrosio to spill the deets on how they maintain such amazing bods.
"The first step is eating healthy," Miranda told me. "I predominantly eat organic when I can. I eat extremely healthy because when I do, I have more energy."
Some of her go-to foods are "spinach, avocado, lots of greens and broccoli."
But the Aussie babe does splurge sometimes... 
"I'm pretty much 80 percent healthy, 20 percent indulgent, because I don't believe in depriving yourself," she said, admitting she sometimes eats french fries.
As for her workout routine, she does yoga, Pilates and low resistance weight training.
"I also like to go on the stepping machine if I'm a hotel and I can't get outside," she added.
Sounds like this busy girl, who's also written a book, doesn't have much free time for summer vacations with boyfriend Orlando Bloom.
"I'm hoping that I'll be able to get a few days where I can go somewhere nice, but who knows?" she said. (Questions about the alleged spat she had with Bloom on a recent flight were off limits.)
Then again, the V.S. girls did shoot this year's catalog on Necker Island in the Caribbean, so we can't feel too sorry for her.
As for model mama Alessandra, she says she won't give up her steak or her sweets.
"Lots of greens, but I love meat, so lots of protein," she told me, adding, "I have a little bit of chocolate here and there!"
See Alessandra Ambrosio tonight on Daily 10 @ 7:30 p.m.
________
Check out more stars chowing down in our gallery!