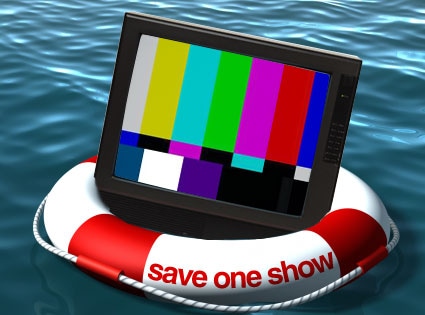 E! Networks/Comcast Entertainment Group
Get ready.
E! Online's annual Save One Show Campaign is launching this Monday, giving you fans the chance to rescue the on-the-bubble series you love most (One Tree Hill? Chuck? Life Unexpected? Parenthood? 24? Heroes?) from cancellation.
Here's what you need to know:
We are finalizing the list of contenders right now, and we need your help!
Save One Show is the only fan-driven campaign that lets you choose the one show you want to save from possible extinction—before the networks announce their new fall lineups in May. The winning series will get a big push from E! Online, E! News and Daily 10, and we will take your message straight to the network execs who are deciding that show's fate to make sure your voice is heard.
Here's What You Must Do: To make sure your show is not forgotten as a contender, nominate it now by (a) posting a comment below, and/or (b) sending a tweet that includes "@kristinalert" and "#SOS" on Twitter.
Tip: You might want to start connecting now with other fans via Twitter, Facebook, etc, because I have a feeling this year's competition is going to be particularly fierce given the new social-networking-crazed world we live in. As you old-timers know, SOS is all about strength in numbers. Also, make sure you follow me @kristinalert for all important Save One Show updates.
Please note: As always, this Save One Show only includes network series at this time, as it is anchored with the Network Upfronts mid-May. However, we are considering a cable Save One Show as well, so sit tight if you are a fan of, say, Legend of the Seeker.
What network series do you love that might not live to see another season?
Post your nomination below or on Twitter, then make sure you come back first thing Monday to vote!
Good luck, everyone...
________
For Save One Show updates and breaking TV news, follow me on Twitter @kristinalert