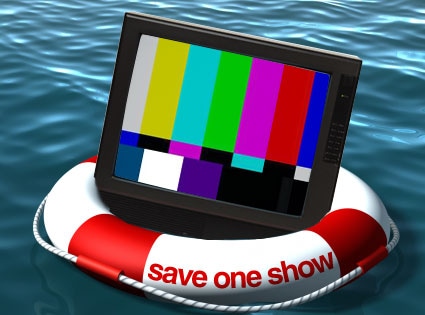 E! Networks/Comcast Entertainment Group
Hear that? It's the sound of TV fans everywhere taking out their earrings, busting out their brass knuckles, applying their sharpest press-on nails and...OK, maybe just sitting at a computer with an antsy trigger finger, but still, getting ready for one heck of a fight!
E! Online's annual Save One Show--your chance to rescue your favorite endangered series from cancellation--begins right now, and we have a feeling this year is going to be more knock-down-drag-out than ever.
Our list of 2010 contenders includes on-the-bubble series like Chuck, One Tree Hill, Life Unexpected, Heroes, Better Off Ted, Parenthood and more. Hundreds of fans have already been rallying support via Twitter and Facebook, but only one show can win...
So get the details and VOTE BELOW!
First, Save One Show ("SOS") in a nutshell: Every spring, the network execs decide which shows will live or die for the coming TV season, and our Save One Show campaign gives you fans the chance to pick the series that most deserves to stick around--and then we help you fight like mad to keep it.
In two weeks (April 12), we'll announce the big SOS winner on E! News, Daily 10 and E! Online and take your message directly to that network's decision makers to make sure they hear you loud and clear. In the past decade, we've helped successfully rescue shows like Felicity, Angel and One Tree Hill.
Important Change: This year, we will ask you to vote again later, as we narrow the list of contenders (see timeline below), and we'll also have a cool Wild Card opportunity via Twitter, so it's crucial you follow me @kristinalert on Twitter for all Save One Show (#SOS) updates!
IMPORTANT DATES
Monday, April 5: Save One Show will be cut down to the top five. Fans of the ousted shows will have the chance to get their series back in the running via a special Twitter Wild Card vote. (We'll give you details April 5.)
Wednesday, April 7: We will reveal the Twitter Wild Card winner, which will be included as a contender in the final vote.
Monday, April 12: The ultimate winner of Save One Show will be announced on E! News, Daily 10 and E! Online.
A tip: Starting this week, make sure you connect with other fans via Facebook and Twitter (using "#SOS" and "@kristinalert") to encourage them to vote.
This year, E! News and Daily 10 wanted to get in on more of the Save One Show action, so they've each chosen a show to champion. Find out which lucky series is Team Ryan/Giuliana and which lucky series is Team Catt/Sal by watching E! News and Daily 10 tonight, and the next two Mondays, at 7 p.m. and 7:30 p.m. The actors on those shows will be making some cool special appearances, too.
The list above includes only network series that have not yet received a pickup for the 2010-11 season at this time. (Cable shows don't apply here because this is all leading up to the network schedule announcements in May, but we might do another SOS later for cable, so stand by.) Shows like Lost, Ugly Betty and 24 were not included because there's just no way at all they can continue on. (Sorry, Blossom!)
See a show missing? Comment below, email me at tvdiva@eonline.com or contact me via Twitter @kristinalert.
Best of luck!
________
Follow me on Twitter @kristinalert for all breaking updates on Save One Show.