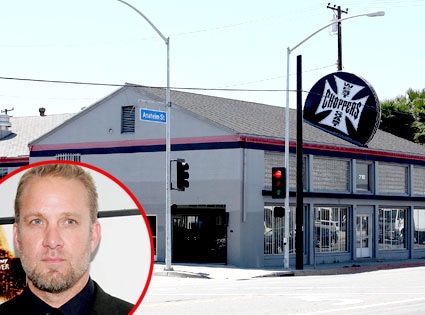 RHEA/GSI Media; Evan Agostini/Getty Images
"Vanilla Gorilla" isn't just Michelle "Bombshell" McGee's pet name for what Jesse James kept in the old Monster Garage.
In fact, it was (the apparently über-confident) James himself who coined the moniker.
E! News has confirmed that Sandra Bullock's estranged mister is also the president of several random companies, including one that just so happens to be titled "Vanilla Gorilla LP," which, according to the California Secretary of State website, he registered back in February 2004 with the same address as his West Coast Chopper's garage. No word exactly what the company does, but it is still listed as "active."
(We're sure Bombshell would agree. Hey-ooo!)
Apparently James has a thing for goofy names.
The Monster Garage mechanic also started up a surplus of companies that sound like they're straight out of a Hanna-Barbera cartoon, names such as Way Fast Whitey, Mighty Whitey LLC, Chopper Dogs and our personal favorite, Payupsucker Publications, the production house behind his 2009 Spike TV series, Jesse James Is a Dead Man.
James also owns Cisco Burger, an upscale hamburger stand near his bike shop.
And in case anyone's wondering, Bullock was not a partner to any of these enterprises.
Which is probably a good thing, as Mr. Gorilla continues to look more like a Tiger. A tatted-up stripper named Melissa Smith claims in the new Star that she had an affair with James during his marriage to Bullock, while ex-wife Janine Lindemulder tells In Touch that he was unfaithful to her as well.