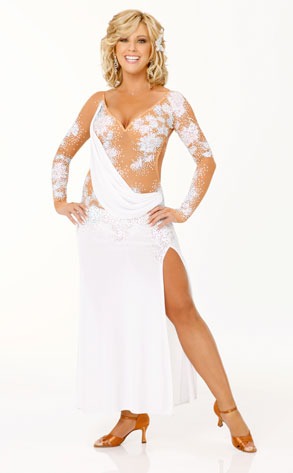 ABC/CRAIG SJODIN
Kate Gosselin didn't score well with the judges during her Dancing With the Stars' debut this week, but she's making a great impression on her fellow castmates.
"Kate is awesome! We all love her. She's so sweet," Evan Lysacek told me at a Ralph Lauren party thrown in his honor in L.A. last night. "She was cheering everyone on. She's working so hard. I know she was nervous last night but she still looked really beautiful."
Mark Ballas echoed those sentiments about the mom of eight. "She's been kind, sweet and fun," he told me. "She's a little bit 'deer in the headlights' because she's never danced before, so all of us are here to help." 
And while Mark said he thought judge Bruno Tonioli's review of Kate's moves as "terrible" was a little rude, the judge isn't taking back his critique...
"I was very honest," Bruno told E! News at the same party. "Kate has a problem because she's not a performer."
As for Mark's partner, fellow bad-girl-baggage carrier Shannen Doherty, he swears she's a pleasure to work with.
"She came in and she's an angel," he told me. "She's a sweetheart to me. You know, she's got balls, but I love that. She knows what she wants. You see the love she had for her father yesterday and it's really heartwarming."
And as long as we're clearing up rumors, how about the one that Evan is dating gymnast and fellow Olympic medalist Nastia Liukin? He had no comment, but—heads up, ladies!—he did tell me he's single.