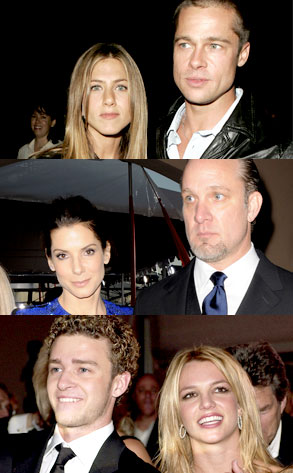 Jeff Vespa/Getty Images; Martinez/JPegFoto/PictureGroup via AP Images; Lester Cohen/Getty Images
Love isn't rare in Hollywood, but it usually doesn't last long. So when it does, our inner sap goes gooey for a blossoming romance between, like, oh, maybe Oscar winner Sandra Bullock and bad boy Jesse James.
Then it all comes to a screeching halt.
And it's true, some breakups hit us harder than others. We get really attached to Hollywood couples like Jennifer Aniston and Brad Pitt, so when the split happens, it gets us where it counts.
Check out our list of the Top 9 Heartbreaking Hollywood Breakups, and let us know which couple you would put for No. 10!
Get the gallery: