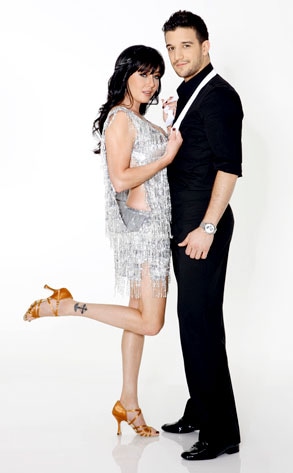 ABC/CRAIG SJODIN
Hear that? It's the sound of spray tan and body glitter machines warming up, cause Dancing With the Stars Season 10 starts tonight on ABC.
We've gotten a sneak peek at nearly all the new contenders' rehearsals and have to say, we're all about seeing Shannen Doherty win this thing. Especially after what she just told our own Ryan Seacrest about the tragic event that motivated her to come on the show (we teared up a little hearing it):
"My dad on Christmas had a massive stroke," Shannen revealed to Ryan on his KIIS FM radio show today. "And he lost his ability to speak and a lot of his mobility, and it was really rough. And when I mentioned Dancing With the Stars as a joke because I'm so nervous in front of a live audience, he got really excited and we struck a deal. And that's that he's going to work really hard on regaining his speech and mobility and I'm going to get over my fear of a live audience."
I mean, come on. How can you not root for the girl after that? Especially when she's got some pretty good moves.
Shannen says she's still using DWTS to encourage her father's recovery. "I had not seen him light up before," she explained. "He'd been to a couple of my rehearsals, and he just got so excited about it. Now it's a negotiation tool. When he's feeling down and tired and he doesn't want to go to physical or speech therapy, I rush over to their house and say, 'Dad, look at me, I can go dance or I can stop. It's your choice.' And he gets up and goes and continues to work hard."
Shannen also admits that the nerves are kicking in. "I am terrified. I get so sick. I break out in hives. Right now, I'm driving there at the moment and I don't know what I'm gonna do about this. My stomach is a mess. I don't know what I'm gonna do."
Tonight, Shannen says she'll be doing the Viennese waltz. "It's actually really difficult, and I'm not the most graceful girl in the world." And she's sizing up the competition, including front-runner Nicole Scherzinger. "I think Nicole is amazing. Not only is she really, really nice, but she's a dancer. I think Evan, being an ice skater, is going to do fantastic. I think Pam is just going to be sexy, sexy, sexy and so much fun to watch. The competition is fierce this year."
In other E!-related DWTS news, reigning ballroom champ Kym Johnson (who won the mirror ball trophy alongside Donny Osmond last season) has signed on to be E! News' special correspondent for all of Season 10. Check out her expert commentary and interviews at 7 p.m. every Tuesday and (starting next week) Wednesday on E! News.
________
Want breaking TV news updates? Follow me on Twitter @kristinalert.