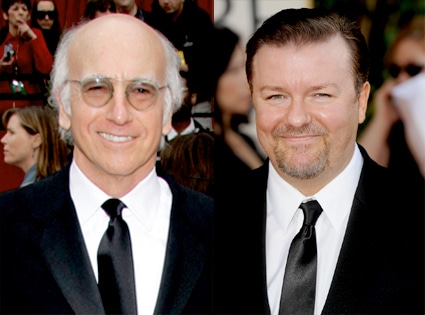 Lisa O'Connor/ZumaPress.com; Robyn Beck/AFP/Getty Images
Talk about two great tastes that taste great together!
Seinfeld creator Larry David told us exclusively that he has asked The Office creator Ricky Gervais to appear on the next season of his HBO hit Curb Your Enthusiasm. Pret-ty, pret-ty awesome.
Wait, what? An eighth season?!
OK, so neither Larry nor HBO has officially confirmed Curb's return, but HBO did just pick up The Ricky Gervais Show for a second season. (Brilliant!) And Larry has said he is "already working on some stuff" for Curb.
So when will the good news be announced?
"I'll probably know something in a month or so," Larry told us, before revealing that he's already talked to Gervais about a Curb guesting gig.
If anything can top last season's Seinfeld reunion storyline, it's a Curb meeting of these genius minds.
If you watched the funnymen team up with Madonna on Jerry Seinfeld's unfortunate The Marriage Ref: (1) We're very sorry; and (2) You know the two geniuses make beautiful comedy together.
"I think Ricky Gervais is one of the funniest guys I've ever met," Larry—one of the funniest guys we've ever met—told us.
Are you as excited as we are for this delicious pairing of hilarity? And yo, HBO, you may as well go ahead and make Curb's season eight official now...