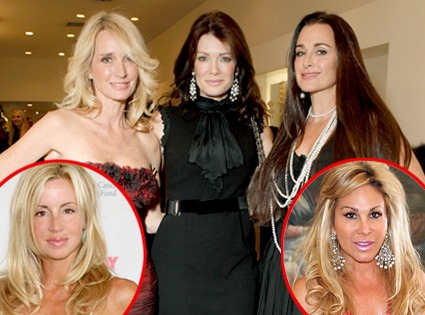 Courtesy of Todd Williamson/Getty Images; Jason Kempin/Getty Images; Jesse Grant/Getty Images
The Real Housewives franchise just got a fabulous face-lift—in Beverly Hills!—and E! News has learned the identities of the new crop of camera-friendly ladies who lunch.
Bringing the real to Rodeo Drive are Paris Hilton's aunts, a British restaurateur, actor Kelsey Grammer's wife and a Maloof (whose family owns the Las Vegas Palms Hotel and Casino).
Here's what we know about the queens of 90210...
Kim and Kyle Richards: Kathy Hilton's younger sisters both have acting backgrounds, which of course they don't need because Housewives is real. Kim Richards, 45 and twice divorced, has four children. Her sister, Kyle, 41, is married with four daughters.
Adrienne Maloof-Nassif: The 48-year-old's family owns everything from the Palms to the Sacramento Kings. She is married to Dr. Paul Nassif, a plastic surgeon who has appeared on multiple episodes of E!'s Dr. 90210. (Does he offer a Housewife discount?)
Camille Donatacci Grammer: The 41-year-old former Playboy model has been married to Frasier star Kelsey Grammer for 13 years. The Hollywood couple have a 9-year-old daughter, Mason, and a 6-year-old son, Jude. Both children were born via a surrogate mother after Grammer was diagnosed with (TMI alert!) severe irritable bowel syndrome.
Lisa Vanderpump-Todd: The one-time actress co-owns two restaurants with her husband, Kenneth Todd, and has two children named Pandora and Max and an adopted son, Cedric. The restaurateur made news recently when her Bentley was stolen out of her garage and later found in a ditch near Mulholland Drive—the same day Charlie Sheen's ravine-bound vehicle went AWOL. A source tells E! News that Real Housewives "will definitely" shoot scenes at Vanderpump-Todd Beverly Hills restaurant Villa Blanca, which must have plenty of tables for enraged Housewives to flip.
A source adds, "Everyone seems very happy to be on the show. They are all really very nice. Lisa (Vanderpump-Todd) is hilarious. She has that dry, British humor."
But can she laugh in the Place of No? We can't wait to find out!