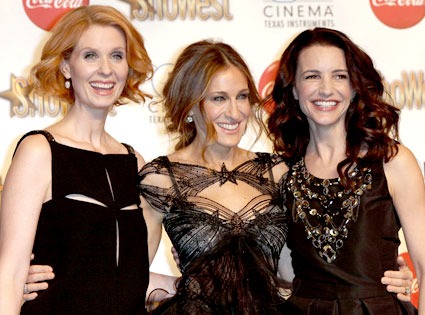 Ryan Miller/Getty Images
Just because Kim Cattrall wasn't in Las Vegas last night with Sarah Jessica Parker, Kristin Davis and Cynthia Nixon does not mean she is persona non grata.
The gals jetted to Sin City for movie industry convention ShoWest, where the upcoming Sex and the City movie sequel was honored with this year's Ensemble Award.
So why was Cattrall a no-show?
She's busy in London starring in a West End production of Noel Coward's play Private Lives.
"We don't like her, so she's gone," Parker joked (yes, joked!) with me backstage. "We've actually been emailing with her for the last three or four hours. The next time you see us, we will be complete."
Nixon added, "We miss her."
Davis also piped in to set the record straight about one of the more recent tabloid tales of SATC catfighting. "I want to clear this up," she said, "I promise I have never made Kim eat alone in a restaurant!"
Of course, the gals were tightlipped about the sequel's storylines, but did share about the sometimes not-so-glamorous filming that took place in North Africa. "We happened to be staying at a hotel that had no electricity and no indoor plumbing," Davis said. "We always had to run out to trailers to go to the bathroom."
Parker added, "We were drinking so much mint tea, but it was a real dilemma: Do you hydrate or do you pee less?"
Perhaps they'll have better accommodations if they make another SATC flick. While no decision has been made about a third, Nixon cracked, "We're going to do Sex in Space."
________
We love the Marchesa dress that SJP was wearing last night. Do you? Glam it or Sham it over in our Fashion Police photo gallery.