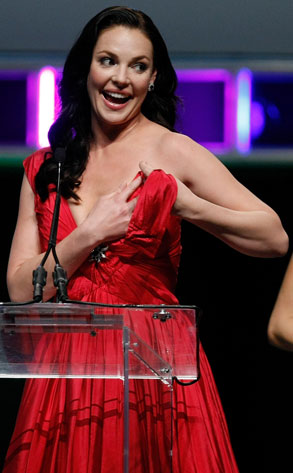 Ethan Miller/Getty Images
We'll get to Katherine Heigl's new hair color in a moment, but first let's talk about her major fashion emergency.
One of her dress straps broke last night in Las Vegas at the ShoWest movie industry convention—while she was on stage accepting the Female Star of the Year Award!
Fortunately, the night's emcee, Billy Bush, quickly came to Heigl's rescue by holding the strap in place while she completed her speech.
"Oh my," Bush posted on his Twitter page. "Hosting showest awards in LV. Heigl comes up to get award, dress strap breaks...I hold her top on while she accepts!" Heigl later secured everything in place with a safety pin.
In way less embarrassing Heigl news...