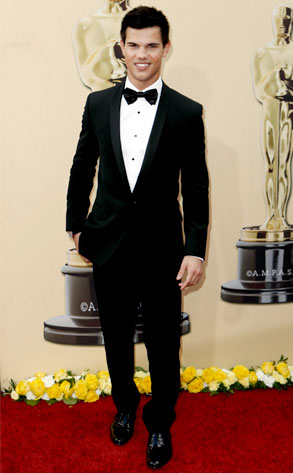 AP Photo/Matt Sayles
Dear Ted:
I'm totally Team Robsten, but I wish you would give Taylor a break. The guy is young and, sure, he's got sexy abs, but he's just starting his career. So he became famous thanks to Twilight, but so did Rob and Kristen! I agree that there was no chemistry between him and Taylor Swift, on or offscreen, but there's definitely chemistry between him and Kristen! Don't hate the wolf, he might bite...
—T
Dear Lay Off:
Exactly—he's just starting what he hopes will be a long-term career, so it's important that he defines himself for the right reasons. Abs can only get cutie Taylor so far, he needs some acting chops to balance the obvious hottie factor in order to be taken seriously. Or don't you agree?
Dear Ted:
Thanks to you, now whenever I read about a celebrity split, I start trying to match the ex-couple with various Blind Vices. I just read about Kate Winslet and Sam Mendes separating. Now I just love her to pieces, so could you please tell me if she (or they) was ever a B.V. or if you are as surprised and saddened as I am?
—Agusta
Dear Down:
I wasn't exactly surprised. Saddened, yes, 'cause I love Kate (never met Sam). But I remember very clearly discussing nudity and sex in movies with Kate when she won the Oscar last year for The Reader. She was strangely complacent and a bit blasé about the effect that love scenes with other men (including longtime onscreen heartthrob Leonardo DiCaprio) had on her marriage. She was almost clinical about it, saying it was all in a day's work. I remember thinking at the time, jeez, not even a blush! Was weird.
Dear Ted:
Greetings from Ireland! The press over in the U.K. are a little extreme. Check this out. Do you think that Rob is maybe a lot less "aw shucks, I am nothing special" than he appears. I am really warming to Kristen after a shaky start and think she will go far, but something about him is making me think he is a little conceited without the talent to back it up. Will this cause problems between the two?
—Lolly