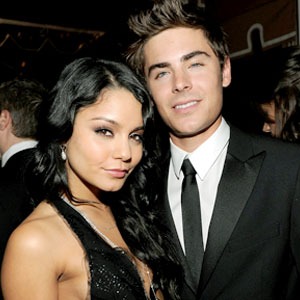 Kevin Mazur/VF1/Getty Images
Zac Efron and girlfriend Vanessa Hudgens got their party on this weekend.
The still-going-strong lovebirds were at L.A.'s Crown Bar on Saturday night, where they helped pal Brittany Snow celebrate her 24th birthday.
Read on to find out what went down and who else showed up, including the surprise blast from Britney Spears' past…
"Vanessa looked hot in a low-cut sexy red dress," a fellow partygoer tells us. She started waving her hands in the air when "Bring 'Em Out" by T.I. came on. Someone tried to take a pic of their table and a friend shook his head "no" and put his hands up.
The bar was closed to the public. Snow rented out the place as did Hollywood publicist Alexis Wallsh, who was also celebrating her B-day.
Things didn't get too crazy, though. Clad in a simple white T-shirt, Efron was overheard placing a drink order. "I drink water, so get some water," he said. He and Hudgens spent most of the night at their table, leaving together just a couple of times before coming back for some more dancing and laughing.
90210 star Jessica Stroup was all about the PDA with her former costar but real-life boyfriend Dustin Milligan. Lance Bass was also there.
And who was that guy cruising through the bar? None other than Spears' former friend…Sam Lufti!
No word on why he was there or what he had to say for himself.
—Reporting by Dahvi Shira