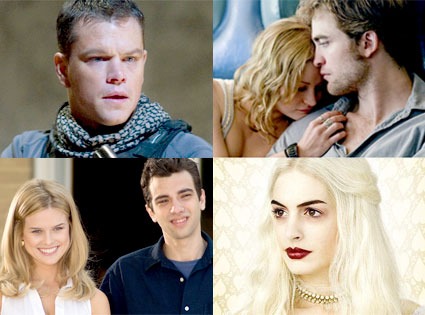 Jasin Boland/Universal Studios; Summit Entertainment; Darren Michaels/Paramount Pictures; Disney
No, Robert Pattinson's Remember Me didn't kill. But it didn't die. Unlike Matt Damon's Green Zone.
On a crowded weekend at the multiplex, Damon's $100 million action-war movie produced a meager $14.5 million debut, per estimates. The smaller-scale Remember Me grossed a respectable $8.3 million, while She's Out of My League ($9.6 million) and Our Family Wedding ($7.6 million) likewise got relatively big bangs out of their little bucks.
Oh, and Tim Burton's and Johnny Depp's Alice in Wonderland made more money than all those four films combined: $62 million. More results:
• Green Zone was not expected to be Bourne big; it was expected to open bigger than, say, the The Crazies.
• On the bright side of defeat, Green Zone made about as much in three days as The Hurt Locker has made during its entire Oscar-winning run.
• To recap: Iraq War movies not a great investment idea. Still.
• The most optimistic estimates had Remember Me breaking $10 million (roughly the equivalent of a Monday afternoon for New Moon). Still, the romantic drama only cost $16 million, so it's already halfway home.
• A statistic that will surprise absolutely no one who is or who has met a Twi-hard: Fully 84 percent of Remember Me's opening-weekend audience was female. And they liked, too—downer 9/11 setting or no. Overall, opening-weekend ticketbuyers graded the Pattinson movie a B.
• After two weekends, Alice in Wonderland has made $208.6 million, keeping it (for now) on the blockbuster pace set by Avatar. To stay with the James Cameron trailblazer, all Alice has to do is play 11 more top 10 weekends. At least. 
• No, Avatar didn't win Best Picture, but it retained bragging rights over every other film in Hollywood, grossing another $6.6 million, and upping its all-time domestic total to $730.3 million.
• Leonardo DiCaprio's Shutter Island ($8.1 million) broke $100 million.
• The Lightning Thief ($3.1 million) dropped out of the top 10 after four tepid weekends and $82.3 million. The $95 million movie needed—and got—help from the rest of the world, with its worldwide take approaching $200 million, per Box Office Mojo.
Here's a complete rundown of the weekend's top-grossing films Friday-Sunday, per estimates compiled by Exhibitor Relations:
Alice in Wonderland, $62 million
The Green Zone, $14.5 million
She's Out of My League, $9.6 million
Remember Me, $8.3 million
Shutter Island, $8.1 million
Our Family Wedding, $7.6 million
Avatar, $6.6 million
Brooklyn's Finest, $4.3 million
Cop Out, $4.2 million
The Crazies, $3.7 million
(Originally published March 14, 2010, at 10:40 a.m. PT)