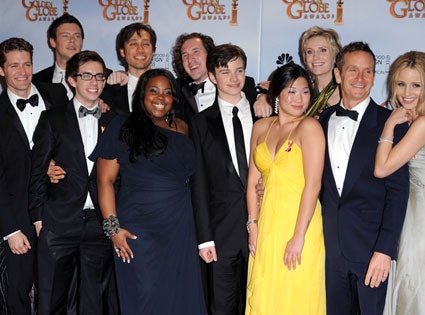 Steve Granitz/Getty Images
Just when you thought Glee couldn't get any better: Lady Gaga has agreed to let Glee cover one of her songs this season. Neil Patrick Harris and Matthew Morrison will share some seriously awesome screentime (and duets). And the romance is heating up!
That's just the start of the scoop we just learned tonight from the Glee cast and producers.
Here's the scoop you Gleeks absolutely need to know...
• The Glee cast and creators just met up with nearly 2,000 fans tonight at the Paley Festival in Beverly Hills, where they also screened the 14th episode of the season, "Hello," set to air April 13.
• Forget Team Finn or Team Puck. How about Team Jesse?! Jonathan Groff's character, who is first seen singing Lionel Richie's "Hello" with Rachel (Lea Michele) is fanfreakingtastic. And ultra-swoonworthy.
• Puck and Rachel: Says Ryan Murphy, "Yes, they will get back together. But the great thing about Puck is he's a bad boy, so he has an affair with almost every girl on the show." Jayma Mays (Emma) then leaned into Mark Salling, who leaned toward Jane Lynch and said: "I'm coming for you, Jane."
• Gaga Is coming! Ryan Murphy: "We're doing an episode that's a tribute to theatricality. We reached out to Lady Gaga and she said, 'Yes, I'd love to be a part of it.' So we will be doing Lady Gaga this season."
• Coldplay and Bryan Adams said no to having their songs covered on Glee. (Seriously!)
• Ryan Murphy on how the Madonna episode came about: "I've worked with Madonna before. I admire her greatly and I'm friends with her a little bit socially. I called her up and wrote her a letter and said we want to write up a tribute to you, and she said yes and she cooperated in every way possible. We do 10 songs altogether. Jane is going to do 'Vogue.'"
• Jane on doing "Vogue": "I started rehearsing in December. We shot in black and white, with the video in front of us. Amber [Riley] and Chris [Colfer] do a makeover for Sue and it leads to this video." Ryan calls it the "spectacular, spectacular." Ryan directed it and it's the second episode back.
• Puck has no mohawk because, says Ryan Murphy, "Puck is trying out a new look." He may or may not keep it.
• Kurt is getting a new boyfriend. Kurt's scenes with his father are based on Ryan Murphy's experience and written by Brad Falchuk. Ryan: "I'm not interested in him being gay-bashed. I'm interested in him being popular and confident and a role model."
• Ryan on Kurt's new boyfriend: "He's very different, but equally fabulous. I want them to be the power couple of the school."
• Matthew Morrison on Neil Patrick Harris: "We're filming right now with him and Joss Whedon. He plays a high school rival of mine. Two years older than me. He got all the girls and the good songs. He's on the school board and trying to take down the glee club. We have two duets, Aerosmith and Billy Joel."
• Amber Riley, who was rejected from American Idol in the early stages, said this when asked what she would say to Simon Cowell: "Nanny, nanny, boo boo." Hee.
• Fan question: Will Julia Roberts guest star? Says Ryan Murphy: "I just finished a movie with Julia, Eat, Pray, Love. She saw the rough cuts and fell in love with the show. I don't know if Julia's gonna do it; maybe. But she loves the show."
• Everyone wants to be on this show, and strangers come up to the producers all the time begging to be on the show. Ryan Murphy: "We've had to say no to a lot of American Idol contestants who have called. I'm shocked how many. Not just this season, but past seasons."
• Ryan Murphy reveals Finn's mom and Kurt's father will have some romantic tension coming up, which excites Kurt because he might move in with Finn!
• Kristin Chenoweth is coming back in the third episode. Holler!
• Lines from Sue Sylvester that didn't make it to air: "Shut your mouth before I rape it." "Rachel wears floor length denim skirts that make her look like she's escaped from a polygamist compound." "I will kick you square in the vagina."
• Check back Monday for my exclusive interviews (and video) with the Glee cast and Ryan Murphy!
—Additional reporting by Megan Masters
(Originally published March 13, 2010, at 10:09 p.m. PT)