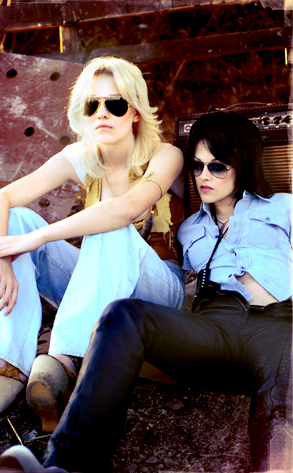 The new film The Runaways is really all about "sex, drugs and rock and roll," as Joan Jett told us today at the Luxe Hotel for the film's junket. (Also, it's a must-see, totally cool.)
Let's hit sex first: We all know by now that stars Kristen Stewart and Dakota Fanning share a big wet kiss onscreen, but that isn't the only racy thing this film has to offer. With Dakota snorting drugs off the floor and spewing some foul language, it's clear this film is a huge departure from the squeaky-clean New Moon, where everyone's celibate and mopey.
Not exactly family fare here, folks.
So what do Stewart and Fanning's own parents think about their babies going at it onscreen? We asked: