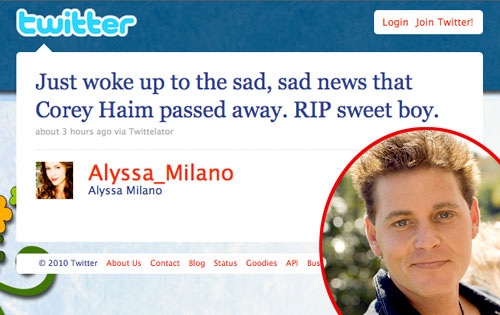 twitter.com/alyssamilano; Michael Bezjian/Getty Images
The Twitterverse is awash with tributes to Corey Haim.
Several of his fellow former child stars tweeted remembrances of the Lost Boy, though they were not alone in mourning the actor:
• Alyssa Milano: "Just woke up to the sad, sad news that Corey Haim passed away. RIP sweet boy."
• Ralph Macchio: "Always so sad and disturbing when the addiction and demons prevail. RIP Corey Haim."
• Melissa Joan Hart: "No way! I just him last week at a Lupus event!" (Right sentiment, wrong Corey—it was actually Corey Feldman who was at the event.)
• Christina Applegate: "My thoughts go out to Corey's family and friends today. So sad."
• Soleil Moon Frye: "RIP Corey Haim. Nobody made listening to 80's music back in the day look so good…Save a dance for me up there."
• Scott Baio: "Young ppl esp. young Actors plz STOP TAKING RX DRUGS. (actors because they have ppl that look up to them)Gone 2 soon. Be at peace Corey Haim. Prayers going out to Corey Haim's Mother, his close friends & family."
• Kevin Smith: "Lost Boy goes home: Corey Haim, dead at 38. G'bye, LUCAS. You have given hope to the weird & unlikely."
• Ashton Kutcher: "Rip Corey Haim 'Childhood hero.'"
• Tamera Mowry: "RIP Cory Haim…you were my first crush!"
• Hoda Kotb: "So sad about corey haim…"
• Karina Smirnoff: "What is happening with Hollywood? Corey Haim found dead from overdose. Another talent lost to drugs."
• Khloé Kardashian Odom: "Is this true? No way. So sad! God bless!"
• Lisa Ling: "Goodbye Lucus. RIP Corey Haim."
• Adrianne Curry: "Corey Haim died. That is what happens when u can't grow up&kick the habit.sadly, most who start, dont stop. A waste of beautiful life. :("
• Uncle Kracker: "My heart goes out to Corey Haim's family this morning. RIP homeboy."
• Adrienne Bailon: "Wow…One of my favorite movies growing up was 'License to drive.' How many people have to die for us to see that drugs KILL? #RIPCoreyHaim."
• Marlee Matlin: "Another actor dies because of drug addiction. In this case RIP Corey Haim."
• Melissa Gilbert: "Corey Corey Corey. You will be missed. May those who love you find peace knowing that there is no more torture for you…no more pain. My heart aches for your mother. Fly well, dear talented boy."
• Holly Marie Combs: "This business can be rough on kids. RIP sweet boy Corey Haim."
• Nick Zano: "Corey Haim. This is a dangerous industry it plays w ur head & sadly he lost, u have 2 b happy w u & that goes w any profession. U define u."
________

Revisit all the highs and lows in Corey Haim: The E! True Hollywood Story, tonight at 6 ET/PT. And tune into E! News tonight at 7 for an exclusive lost interview with the Lost Boy.
In the meantime, don't miss our Remembering Corey Haim gallery.