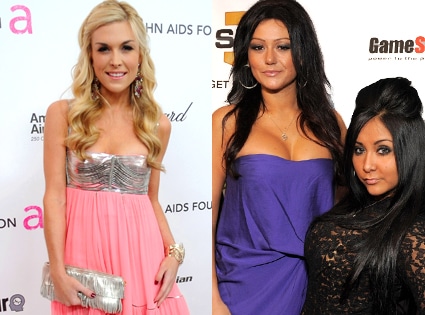 Jamie McCarthy/Getty Images; Todd Williamson/Getty Images
Just because Tinsley Mortimer is a Park Avenue princess doesn't mean she's won't hang with the Jersey Shore cast.
The New York City socialite, whose new reality show, High Society, premieres this Wednesday night on the CW, has mingled with lots of celebs in her life, but it's the MTV cast she got really excited about meeting.
"I just think they're so funny and so themselves," the petite blonde told me via a phone interview from NYC, after attending the Oscar parties in L.A.
She first ran into The Situation and Pauly D while recording a voiceover for her show at the same studio the guys were shooting The Rachael Ray Show, and she recently got to work with J-Woww, Snooki and Sammi as well.
So does Tins think the Jersey cast could cut it in the High Society of the Upper East Side?
"I would love to do something with them," she said when asked if she'd want them on her show. "Have them come to New York too, sure! It'd be amazing."
High Society will follow Tinsley and her colorful friends as she navigates New York's elite social scene as a newly single girl. She recently got divorced from her husband, whom she met in high school.
As for the rumor she's reportedly dating American Idol castoff Constantine Maroulis? She's mostly mum on that one, although she confirms he will be on the show.
"I did meet him while filming the show," she told me. "He happened to be at an event I was hosting on the show. But it wasn't set up that way. It was just a complete random event that happened while I was filming."
The handbag designer and Dior beauty ambassador, who graduated from Columbia University, says the show will show her imperfect life.
"Because I'm a girl that definitely lives in an amazing, very privileged world in New York, I feel like people think that things come very easy to me or that I've had it easy," she said. "My life is not so perfect, and I want to expose that and I want people to know that it's not."