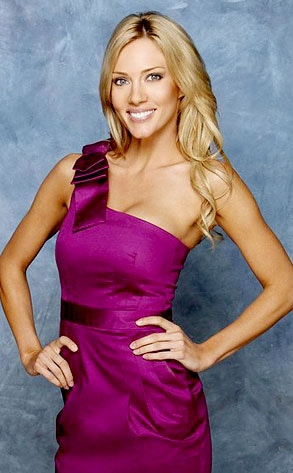 ABC
Update: Mystery solved! A lawyer for Rozlyn Papa has ID'd the clip purporting to be a sex tape of his client. According to a statement from Roderick J. Lindblom, "a cursory Internet search reveals that the clip appears to be from a 2004 porn movie titled Pole Position: Lex POV, directed by Lexington Steele."
________
While Rozlyn Papa may have been Jake Pavelka's most controversial potential paramour, she's not a porn star.
A 15-second dirty video that went live on (NSFW site!) Pornhub.com today may look like her, but the blond woman shown "is clearly not her," her rep, Stacie Vanchieri, tells E! News exclusively.
"I've seen the tape," she continues. "Anyone who has met her once would know it's not her. The woman has a different body, hands, face, everything."
Indeed, the fast flick shows a seemingly much more flat-chested woman than the 29-year-old reality star.
"The woman looks directly into the camera and is definitely not Rozlyn," Vanchieri claims. "The tape looks like it was done as porn to be sold, not a private moment captured on tape…It so clearly seems someone is trying to ruin her. I don't know why someone would do this to her—she has to take her son to school in the mornings."
Papa, who continues to deny any sort of affair with a producer on the ABC reality show, told us last week that she'd heard some buzz about sex tapes starring her and was having her lawyer get to the bottom of it.
"Whoever it is that's shopping around is also the guy who's shopped around other fake celebrity sex tapes," she said. "I don't want to say too much about it, except that as far as I know, it's a hoax."
While Papa's lawyer is taking the necessary steps to have the video removed from the website—or at least his client's name removed—the model is doing her best to keep her head held high.
"She's upset but she's a strong cookie," Vanchieri says. "She knew there was never a sex tape but now it's kind of a relief to her that it's out there and so clearly not her."
(Originally published March 9, 2010, at 9:00 a.m. PT)