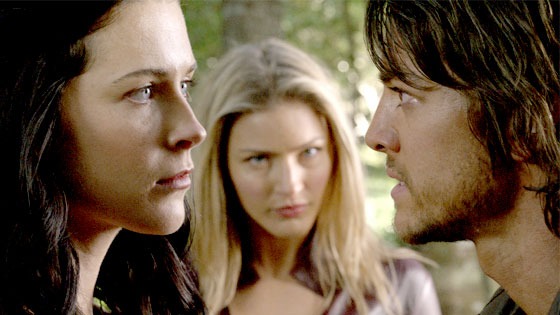 ABC
Great news, Legend of the Seeker fans! You may have heard rumors that your show had been canceled, but we just talked with an inside source close to the show, and well, the rumors are just not true.
Yes, the Tribune Station Group is dropping Legend of the Seeker in a lot of markets, but that's not the end of the road for Richard (Craig Horner), Kahlan (Bridget Regan) and Cara (Tabrett Bethell). Here's the good news that we've heard about the future of our favorite cult-hit fantasy series:
Insiders tell us that ABC Studios, which produces Legend of the Seeker, is not letting Tribune's decision be a show killer. We're told that ABC has every desire to bring the show back for a third season and studio bosses are "exploring their options" for where and how to air a potential third season.
Long story short, if the ax is falling on LOTS, it'll be weeks and months before we know for sure, but Tribune's decision is not a death knell. So don't panic, kiddos, and how about we channel all that nervous energy into some serious fan activism?
So, what's our suggestion for an alternate home for Legend of the Seeker? We say ABC should either convince the CW to air it on Fridays at 9 p.m. after Smallville, resulting in a "sexy genre show" two-night block for the network (Vampire Diaries and Supernatural on Thursdays, Smallville and LOTS on Fridays), or it should sell the show to Syfy, not least because Legend's ratings are at least as good as anything that Caprica and Stargate Universe are putting up.
What's your suggestion for saving Legend of the Seeker? And why do you love the show so much in the first place? Hit the comments with your take!
_______
If you liked this article, please subscribe to the Watch With Kristin RSS feed.