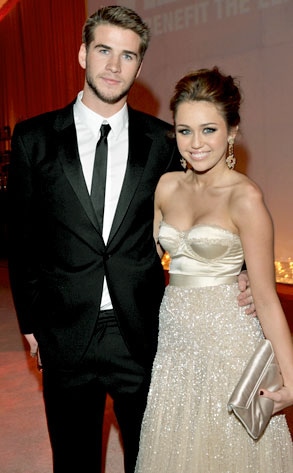 Lester Cohen/Getty Images
Miley Cyrus has a boyfriend. Yeah, we all know she's been dating Liam Hemsworth, her hot costar in the upcoming The Last Song, but Miley has finally confirmed it to me!
And all I had to do was ask her what she had been doing before heading to present at the Oscars…
"Me and my boyfriend went on a bike ride," she told me on the red carpet last night.
Yes, she said "my boyfriend."
While Cyrus brought her mom, Tish, to the awards show ("She looks hot," the proud daughter said), Hemsworth was at the Elton John AIDS Foundation viewing party. But Miley eventually made it over to Sir Elton's, where she caught up and canoodled with Hemsworth while chatting with fellow partygoers like Nicole Richie and Kelly Osbourne.
The lovebirds even stepped out of the party for a bit to get In-N-Out burgers from the event crew's catering truck. (So did the you-think-she-never-eats Richie!)
Cyrus really rocked out to a roof-raising performance by Studio 54 cult songstress Grace Jones. She even asked Hemsworth to dance with her. But he politely declined and sat down at a table with Joel Madden.
And yes, Hemsworth is a true tall glass of Aussie milk. He looked smashing in Calvin Klein and told me, "I love living in L.A." But, he added, "I do miss my family."
The viewing party, catered by the very yummy Vermont restaurant, raised $3.7 million for the AIDS Foundation.
Hit songman Jason Mraz was there with jewelry designer Carlos Antonio's pin for marriage equality on his lapel. Other guests included Victoria Beckham, Heidi Klum, Glee star Cory Monteith, Joaquin Phoenix, K.D. Lang, Josh Groban, Rob Lowe, Ryan Kwanten, Kris Allen and fellow Idol-er Allison Iraheta, Chace Crawford, Debi Mazar and Gilles Marini, among a whole bunch more.