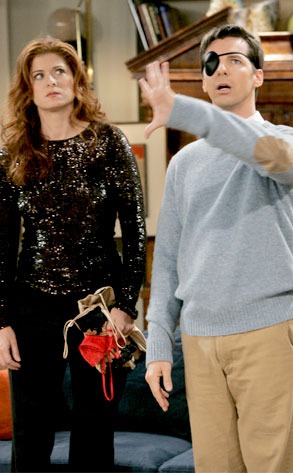 NBC
Just Jack just came out.
Four years after ending his run as Will & Grace's scene-stealing sidekick, Sean Hayes has confirmed the long-swirling rumors of his sexuality by proudly taking this month's cover of The Advocate.
"I am who I am," the 39-year-old Emmy winner told the magazine. "I was never in, as they say. Never."
As for why Hayes waited so long to speak so candidly about his personal life, well, there's one simple reason: It was—and despite his sudden forthcomingness, remains—nobody's business.
"I believe that nobody owes anything to anybody," he said. "Nobody owes anything to anybody. You are your authentic self to whom and when you choose to be, and if you don't know somebody, then why would you explain to them how you live your life?"
And despite his previous reluctance to go on record about his personal life, Hayes still rightly feels he has done more than his part for the community.
"I feel like I've contributed monumentally to the success of the gay movement in America, and if anyone wants to argue that, I'm open to it. You're welcome, Advocate."
However, the road to his coming out was long, and Hayes is not without disappointment for those who did their best to out him before he was ready, including the Advocate itself.
"Why would you go down that path with somebody who's done so much to contribute to the gay community?" he asked. "That was my beef about it. What more do you want me to do? Do you want me to stand on a float? And then what? It's never enough.
"That's the thing about celebrity: It sets you up to fail because the expectation is so high of what's needed, what's wanted from you that the second you don't [meet it], you disappoint people."
As for whether his disclosure will cost the erstwhile Jack McFarland any future jobs, he can't say.
"They know where I am if they want me," he said. "And if they don't, that's fine, too."
Still, Hayes, about to make his Broadway debut alongside Kristin Chenoweth in Promises, Promises, isn't divulging everything about his private life. While he confirms that he's in a relationship, that's about the extent of the details he's dishing.
"I spend time with a special someone in my life," he said. "That's it. That's all I need. I don't need events. I don't do a lot. I live my life like an 85-year-old man. I'm just quiet. It's fantastic."