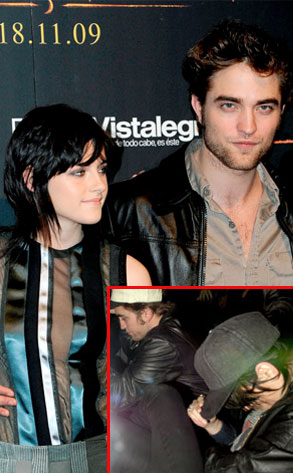 Fotonoticias/Getty Images
Dear Ted:
I'm not so sure about Robsten anymore. I want to believe but there was no love at the last award show. Maybe they are just good friends. If they have that much clout, why is Summit telling them to cool it? I would never see the last Twilight film if Summit even considered recasting the two! Let's face it, Ted, I just don't think they're together—it's just a really big PR stunt to have people see their movies! I'm sad. But thanks for trying to convince us they are real. Keep trying!
—LJM
Dear Debbie Doubtful:
The problem with that theory is that it doesn't make any sense. If Robsten was a PR hoax, the sneaky duo would be staging photo ops left and right. Have you learned nothing from Gyllenspoon?
Dear Ted:
As a former social worker, I would involve child protective services ASAP and it would be not at all unlikely the kids would be put in foster care until the parents cleaned up their act. Do these services not exist in the country of California? Who the hell is taking care of Brooke Mueller and Charlie Sheen's children?
—D.R.
Dear Think of the Children:
Between rehab hopping and trying to stay away from those darned hookers, Brooke and Charlie rely heavily on their four nannies to keep the kids in line. But I wouldn't call child services yet, because...well, they've already visited the Sheen household.
Dear Ted:
Who do you think is crazier, Twilight or Supernatural fans? I am a fan of both but I must say Supernatural fans go way overboard with Jackles. Not so much with Twilight (maybe because Taylor was a minor until last week). Also, who do you think hates the public's interest in their sex lives more?
—Lisa