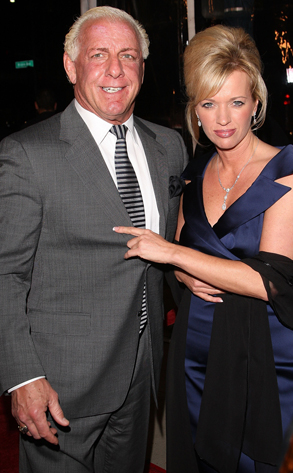 Jason Merritt/Getty Images
Sometimes there can be a long gap between May and December.
Jacqueline Beems, the 41-year-old wife of silver-haired wrester Ric Flair, has been charged with misdemeanor assault for allegedly attacking her husband of three months in their North Carolina home on Sunday night.
Flair, aka "Nature Boy," who used to tussle for the mighty World Wrestling Entertainment and now grapples for Total Nonstop Action Wrestling, had minor injuries but refused treatment from paramedics, according to Charlotte-Mecklenburg police.
Could Flair, who met Beems in 2004, be looking to save face after perhaps being pushed around by a girl?
He said in a statement that the entire incident was a misunderstanding and that his wife did nothing wrong. Beems was released from custody a few hours after her arrest.