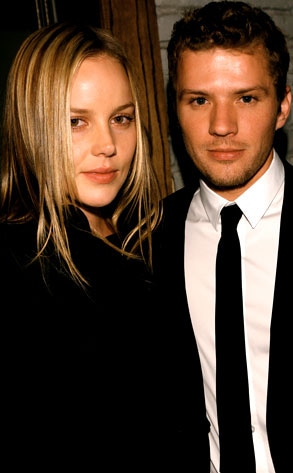 Michael Bezjian/Getty Images
Ryan Phillippe and Abbie Cornish are the latest celeb couple to split, and while failed romances are hardly a big deal here in Hollywood, the way the once-happy couple is handling the breakup certainly is throwing us for a loop.
Reps for both Abbie and Ryan are each claiming that their respective client is the one who ended the almost four-year relationship.
What, no this breakup was mutual crap? Thank heavens for something semi-real happening in this town! But who to believe?
While it may be arguable whether it was Ryan or Abbie who finalized the end of their relaysh, insiders tell us this breakup has been a long time coming.
"Ryan has been out a lot the past few months, partying and flirting with girls," a source tells A.T. "He was at Voyeur club a few weeks ago and was being super flirty with his waitress, he even had his arm around her. He's been looking very, very single!"
While Cornish, 27, has recently been spending a lot of time in Vancouver shooting her new film Sucker Punch, Phillippe, 35, has been partying it up at New York Fashion Week and hitting the late-night after-party scene on both coasts.
Remember, back in December we told you Ryan was flirting with ladies not by the name of Abbie: "He wasn't acting like he was in a relationship at all. Whenever girls came up to him, you could tell he really liked the attention."
Despite months of reports on Phillippe's bad-boy ways, the couple were spotted together as recently as Jan. 28, when they walked the red carpet hand-in-hand at a Calvin Klein event in Los Angeles.
But it seems like trouble may have been brewing even then, as Cornish told E! cameras she didn't have any Valentine's Day plans yet because "these things come up so quickly."
Hmmm, things like your boyfriend being so over your relationship?
Sunday, Phillippe was spotted hanging out with his two children, and Cornish was seen removing items from their shared L.A. home.
Interesting, this breakup is so eerily similar to that of Reese and Jake's. While publicly reps for Gyllenspoon made the split seem cordial, we can tell you it didn't go down as snuggly as they'd like you to believe.
Hopes for a Reese and Ryan reconciliation maybe? Die-hard Cruel Intentions fans here at the A.T., so we'd love for R and R to put the past behind 'em, 'cause we assure you, they both had faults in their marriage.