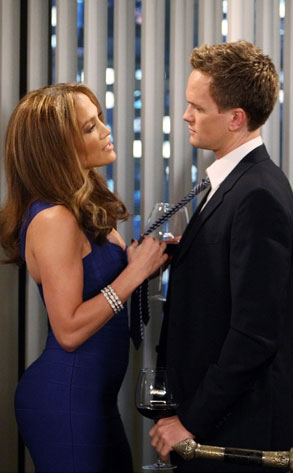 Monty Brinton/CBS
Say what you will about Jennifer Lopez, but the girl sure does work her (famous) ass off.
The singles from her new album, Love?, haven't exactly set radio stations on fire, but hey, that hasn't stopped the multihyphenate from taking just about every promotional gig she can think of in order to promote the record.
Lopez has performed her comeback material on TV shows ranging from So You Think You Can Dance to New Year's Rockin' Eve, and now she's doing a scripted-show guest-star tour, including everything from a cameo as a cafeteria lady on Glee to a one-episode gig on How I Met Your Mother. CBS just released your first official look at that HIMYM appearance; J.Lo's part on Mother will be "Anita, a self-help author, tries to lure Barney (Neil Patrick Harris) into falling head-over-heels for her."
But here's the question: What does Jennifer Lopez need besides a killer work ethic to win you back? Is she just risking overexposure with this publicity run, or did J.Lo's overexposure train leave the station a long, long time ago? What singles should she be recording or movie roles she should be taking to get back in your good graces?