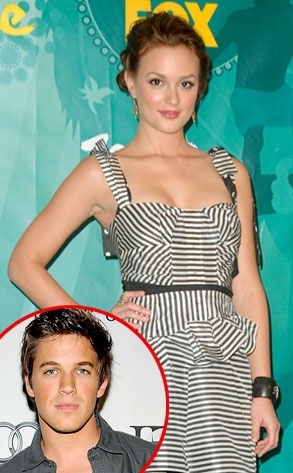 Steve Granitz/Getty Images; Frazer Harrison/Getty Images
Leighton Meester and 90210 sexpot Matt Lanter in a steamy sex scene? Now that's something to gossip about!
The two CW stars get hot and heavy in the upcoming thriller The Roommate...
"It's a really exciting love scene," Lanter, 26, told us Thursday night at Mi-6 nightclub's Battlefield Celebrity Bracket Challenge in West Hollywood. "It's kind of kinky, I'll tell you that. I think people will really enjoy it."
We imagine filming a kinky love scene could be pretty uncomfortable, but Lanter insists that  Meester kept everything at ease. "Leighton's a really cool girl, so it wasn't really awkward," he said. "She's pretty hot."
And if those two aren't hot enough for you, The Roommate also stars Twilight's hunkiest dead vampire, Cam Gigandet.
Meanwhile, Lanter also filled us in on what's coming up when 90210 returns on Mar. 9. "We get to see a lot more into Liam's character and his family life," Lanter said. "Naomi [AnnaLynne McCord] and Ivy [Gillian Zinser] end up getting into a fight over Liam. They're literally rolling around on the beach."
That's not all for Naomi. "She gets into a big, big scandal that affects everyone at the school," Lanter said. "It affects Liam. They go through some rough patches."
________
We can't wait to see the chemistry between Leighton and Matt. We wonder if they'll fall into our Best Onscreen Couples photo gallery.