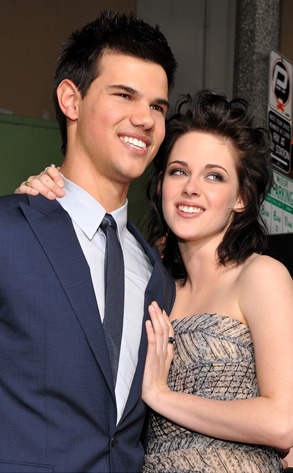 Lester Cohen/Getty Images
Robert Pattinson presented at last year's Oscars, but guess which Twilight stars are doing it this time around?
I'll let Kristen Stewart tell you…
"Yeah, I'm going," Stewart just told me when I asked if we'd be seeing her on March 7 at the Academy Awards. "Me and Taylor are going to present."
Stewart admitted she's very nervous.
"I've been looking at shoes," she said. "I'm trying to pick shoes that I know I won't fall down in."
I chatted with Stewart at the Four Seasons Hotel in Beverly Hills, where she'd been holed up for most of the day promoting her new drama, The Yellow Handkerchief, with costars Eddie Redmyane, Maria Bello and William Hurt.
In a couple of days, she'll be in London for BAFTA's Orange Awards, where she's a Rising Star nominee.
"I feel so funny about it," Stewart said. "Really cool people have won, and really cool people are up for it this year. And I know a few of them, like Jesse [Eisenberg] and Carey [Mulligan]."
As well, A Single Man star Nicholas Hoult and French actor Tahar Rahim round out the list.
Stewart thinks it's Rahim's award to win.
"I can't even actually think about that," she said, covering her face. "If I win, I'm gonna be like, 'Carey, Jesse, suck it up—'cause I think Tahar should have won.' "
That's not all I have for you from Ms. Stewart. Make sure to come back here for scoop on Breaking Dawn and more!
________
Also coming up for Stewart is The Runaways. Click here to find out what she had to say about kissing Dakota Fanning.