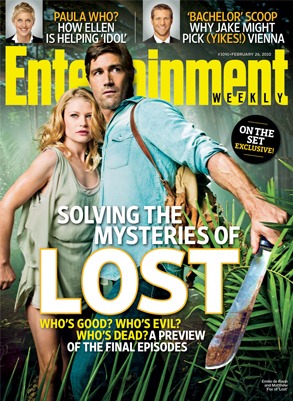 Entertainment Weekly
• Lost: Shannon's coming back! E.W.'s Doc Jensen reports in this week's issue that Maggie Grace is now set to return for a guest appearance in season six. In other cast return news, reps for Andrea Gabriel confirm that Sayid's beloved Nadia is going to appear in season six as well. Gabriel first pops up again in the March 2 episode "Sundown," and then she also appears in a second episode to be revealed later. Last but not least, sneak peeks for next week's episode, "Lighthouse," include a look at feral Claire and an alt-timeline family Shephard.
• TV Fight Club? Our frienemy has posted a blind item about two rival thespians who maintain a deep animosity toward each other and who will be doing the same "small-screen opportunity" but not appearing onscreen together. Everybody and their mother seems to think the answer to the blind item is "Idina Menzel and Kristin Chenoweth," who costarred in Wicked and who both now have parts on Glee. Sad face. But maybe they'll prove the peanut gallery wrong by doing a Glee duet together later this season?
• Casting Corner: Taryn Manning has signed on for the new Hawaii Five-O. Sons of Anarchy show runner Kurt Sutter tweeted in response to the news, "happy for taryn manning getting 5-0 gig...bummed for soa, had an arc for cherry in S3." Oooh, foiled again!
Are you stoked that with Grace aboard almost all of Lost's season-one regulars (sans Malcolm David Kelley) are back for the final episodes? Hit the comments!
________
Plus, One Life to Life fans, check out upcoming guest star Snoop Dogg in our TV Stunt Casting Gallery.