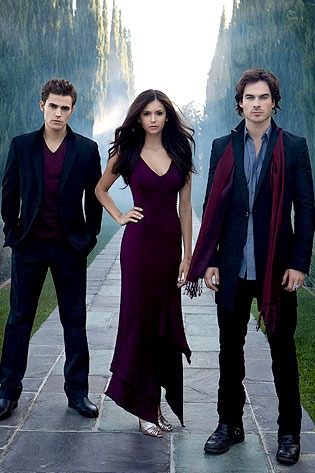 Andrew Eccles / The CW
Hooray for lovers of Ian Somerhalder's smoldering eyes!
The Vampire Diaries has just received an official early pickup from our friends at the CW, along with another season order for Gossip Girl, Supernatural, America's Next Top Model and 90210.
But wait a minute, what about fan favorites One Tree Hill and Smallville, not to mention newcomers Life Unexpected and Melrose? Are they getting canceled? According to well-placed sources, here's where things stand:
Smallville: I'm told it's very likely that Smallville will return for another season, given that it is pulling in solid ratings (by CW standards)—an average of about 2.5 million on Friday nights. So why no Smallville pickup today? According to insiders, it's possible they are still finalizing deals with the actors and also want to announce Smallville's pickup separately, while also setting an end date, as it may be the final season.
Melrose Place: The CW is waiting to see how it does in the ratings when Melrose returns March 9,  my moles tell me. However, the prospects at this time are pretty grim. So far this season, M.P. has been pulling in about 1.7 million viewers for original episodes and 700,000 for repeats. Reruns of Vampire Diaries have been doing better than new episodes of Melrose Place.
One Tree Hill and Life Unexpected: According to insiders, it's highly likely that only one of these series will survive. Given that Life just started, the CW suits are giving it a bit more time before making the call. OTH has been averaging 2.5 million viewers on Monday nights (the same as Smallville, but Smallville faces less pressure on Fridays). Life Unexpected has been holding on to OTH's audience fairly well—thanks in part to ever-dropping rival Heroes, which just wrapped its season early. (Thanks, heroic pals. Save the foster child, save the world!)
Fans already have launched a petition to save One Tree Hill right here. We just caught up with OTH's Shantel VanSanten (Quinn) at the Jill Stuart fashion show in NYC, and she said she's not giving up hope anytime soon. "I know that a lot of us have been signed on for one more year," Shantel told us. "And I feel like there's a lot that's due to our stories. I don't feel like we're ready to end. I feel like there's so much unfinished business, and I'm really, really hoping that we'll get another year." 
As for 90210, we ran into AnnaLynne McCord at the Max Azria show at Fashion Week today, and she says, "I just got the email. I'm so excited. They had talked about it but it's nice to know that I have a guaranteed job for another year." Will this pickup mean anything different for AnnaLynne's summer plans? "No, I was working all throughout the summer as it was. I have about four projects that are in negotiation right now."
So are you rooting for One Tree Hill? Life Unexpected? Melrose? Smallville? Let your voice be heard in the comments below...
—Additional reporting by Breanne L. Heldman
________
Follow Kristin Dos Santos on Twitter, @kristinalert.