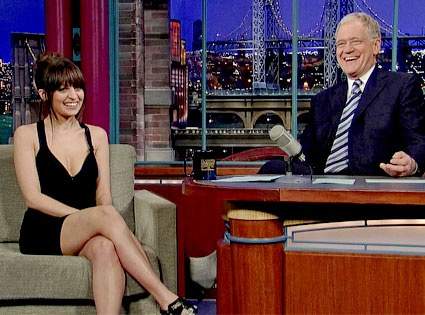 CBS
She may be a blushing bride-to-be, but she's certainly not a chatty one.
We already know that Nicole Richie finally spilled the beans on her pending nuptials to Joel Madden during a taping of the Late Show With David Letterman yesterday, but since the revelatory episode doesn't air until this Friday, the details of her disclosure were under wraps.
Until now.
After admitting to Letterman that she and her two-time baby-daddy were not yet married, the late-night leader asked if she was at least planning a walk down the aisle.
"We actually recently are engaged, yes," Richie said. She didn't go into specifics on when or how the proposal went down, though the couple may want to take some time to get their stories straight should they choose to enlighten their fans. While Richie said the engagement was "recent," Madden tweeted last night that they've actually "been engaged for a while."
Whatever the case, Richie accepted Letterman's congratulations (and ribbing) during her guest spot.
"A lot of people will have children and then they don't want to rush right into the marriage—you know, they wait till the kids get out of college, then they get married," he joked.
Better just to wait until they get out of preschool.
Richie, who's currently making the talk-show rounds to promote her House of Harlow and Winter Kate show and clothing lines, also talked kids.
"It does," she said, responding to Letterman's musing about how children change your life.
"It sounds cheesy to say, but it does. Your whole life changes and your priorities change 100 percent...In the best way possible."
A man who clearly agrees is Nicole's papa Lionel Richie, who wasted no time in releasing his own statement of congratulations.
"My happiness for Nicole and Joel knows no boundaries," he said. "They have given me two beautiful grandchildren, Harlow and Sparrow, and have proven to be great parents.
"I am not sure who is luckier, Nicole and Joel to have each other, or me, to have both of them in my life. I cannot wait to give away the bride!"
________
Nicole and Joel aren't the only celebs planning a walk down the aisle. Check out more beautiful betrothals in our gallery of Celeb Weddings We Can't Wait For!