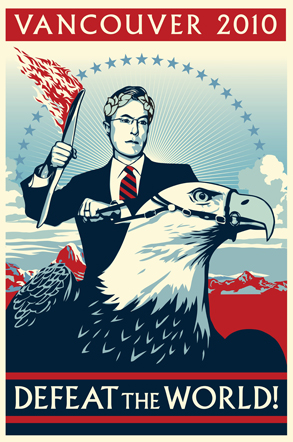 www.colbertnation.com
America's preeminent fake conservative blowhard Stephen Colbert has a message for our nation's best and brightest young athletes.
Defeat the world!
The Comedy Central funnyman released his very own poster for the Vancouver Olympics. Designed by artist Shepard Fairey (best known for the Barack Obama "Hope" image), this work of art depicts the mock hero at his mock-heroic best: crowned in laurels, astride an eagle and clutching a dangerously flammable object.
Like it? Colbert has made the image available for free, only asking that fans show their support by "plastering it all over Vancouver."
Let the patriot games begin.