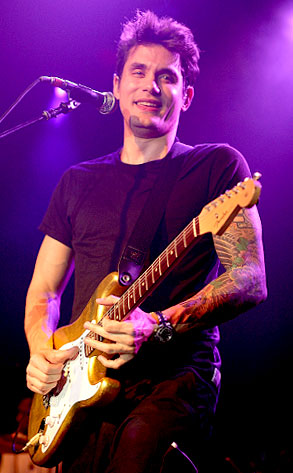 Don Arnold/Getty Images
Dear Ted:
With his new Playboy interview, it seems John Mayer has gone the way of Lindsay Lohan—he will do and say anything to be in the spotlight, no matter how desperate or pathetic. Dropping ex-lovers' names and describing your sexual exploits for publicity? Does it get any lower? Although, Jessica Simpson seems like the type to not care as long as he speaks of her favorably...It seems to me any woman who gets into a relationship with him now is doing so with her eyes wide open and wants her business written all over the proverbial bathroom wall.
—Jenn
Dear Attention Whore:
From your lips to Taylor Swift's ears.
Dear Ted:
As a longtime reader, your most recent exclusive ruffled my feathers. For months now, you've been talking about Jackles and you've been very direct about their respective engagements. You've called them "nothing more than exquisitely timed PR stunts" and even said "Jared Padalecki and his supertight Supernatural bud, Jensen Ackles, will sooner marry each other than who they're currently rumored to be getting hitched to." Now the people who have been listening to you from the beginning are "crazy" for not wanting Jared and Jensen's "fake PR" weddings to go ahead? I think I have whiplash from your sudden backpedaling! So, why the change of tune?
—Radha
Dear Whiplashed:
I never wrote anyone was crazy for not wanting either duo to marry. Look, I think anybody's crackers to want to get married, period. This is regardless if the union's for PR purposes or not. But let's put it this way: One of these marriages has a bit more legit intimacy than I at first suspected. And that doesn't mean I regret anything I previously wrote, far from it.
Dear Ted:
If "more to come" means we get a play-by-play of the weddings, then please just spare us. We really don't need to know that Gen arrived on the back of a mule and her theme was acorns and horse manure or that Danneel performed a pole dance in the middle of her ceremony.
—O